Klymit Inertia X-Lite 2016 Review
A Innovative / Ultralight Sleeping Pad
My go to sleeping pads to date have revolved mostly around Thermarest variants - some ultralight and some not. This buying round I wanted to think outside my norm and take a chance on a sleeping pad I had always wanted to check out - Klymit's ultralight Inertia X-Lite. At 6.1 Oz. and 2.5" x 5.5" ( packed dimensions with bulb ), the X-Lite is just what I needed.
I opened the Backcountry package and was impressed how small the packed X-Lite is. It literally takes up less space than a standard 12 Oz. aluminum can but weighs less and is clearly designed for minimalist / ultralight purposes. My girlfriend asked, "Is that the sleeping pad?" in disbelief because she knows the size of two other sleeping pads I own. Included in the package are a separate bulb used to 'micro' adjust the firmness and a patch kit. From a conversation with Klymit, some wanted / needed more firmness due to the sleeping pad's thickness ( 1.5" ) and the second 'bulb' inflation port handles that quite well. The r-value isn't provided but, from research, I found it comes in at roughly 1 to 1.5 which isn't much. Then again, I didn't expect more given its purpose. For those inclined, thermodynamic equations would solve the r-value mystery but wouldn't completely define it because of 'loft pockets' ( Open areas where material was removed ) allow sleeping bags to expand and provide better insulation. These are the by-product of Klymit's 'body mapping technology' to determine where material can be removed which is precisely how they are able to sell a sleeping pad this light. At best, you could determine the r-value where material exists.
Packed size - Includes sleeping pad, patch kit and bulb.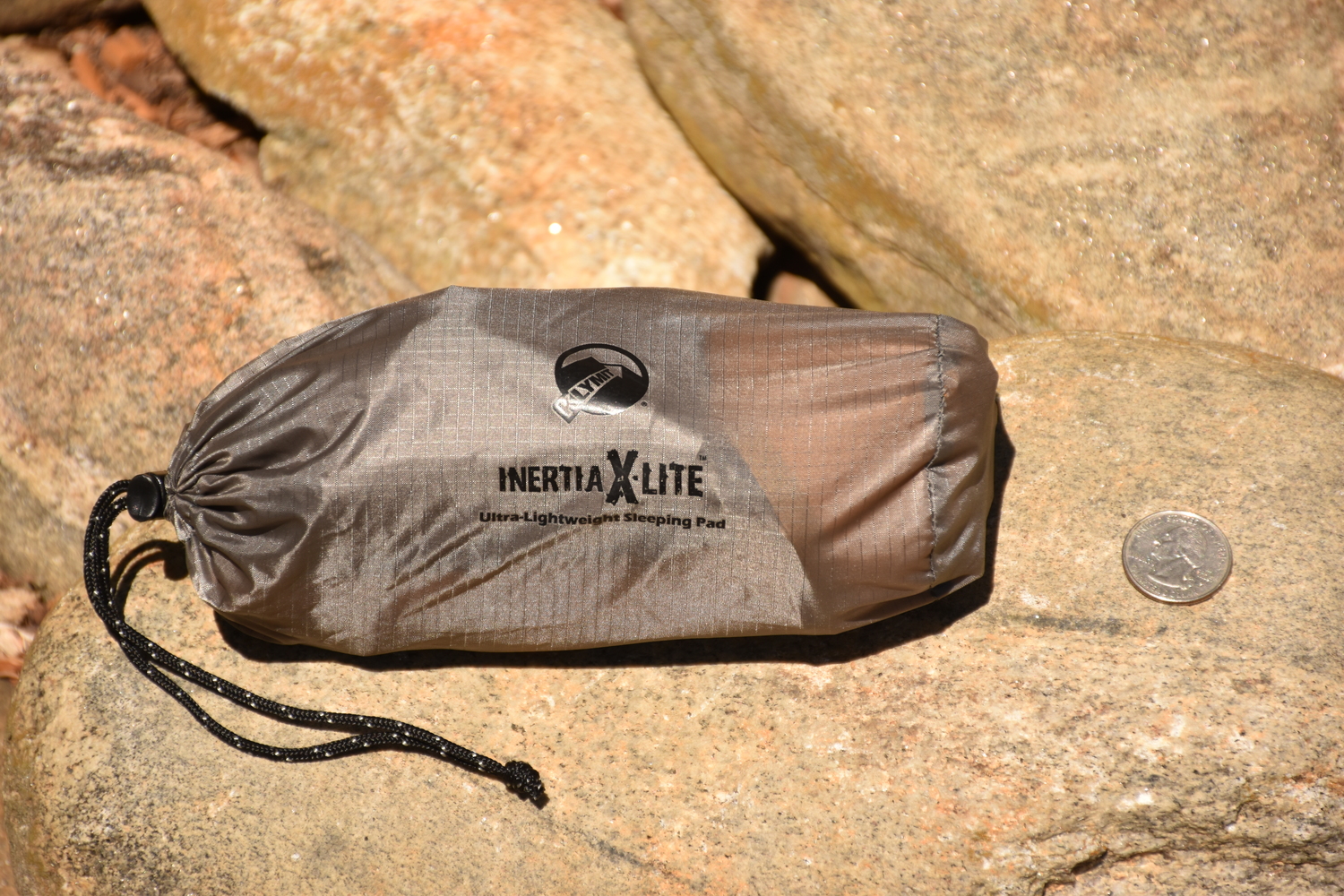 If you don't want to take the bulb well ....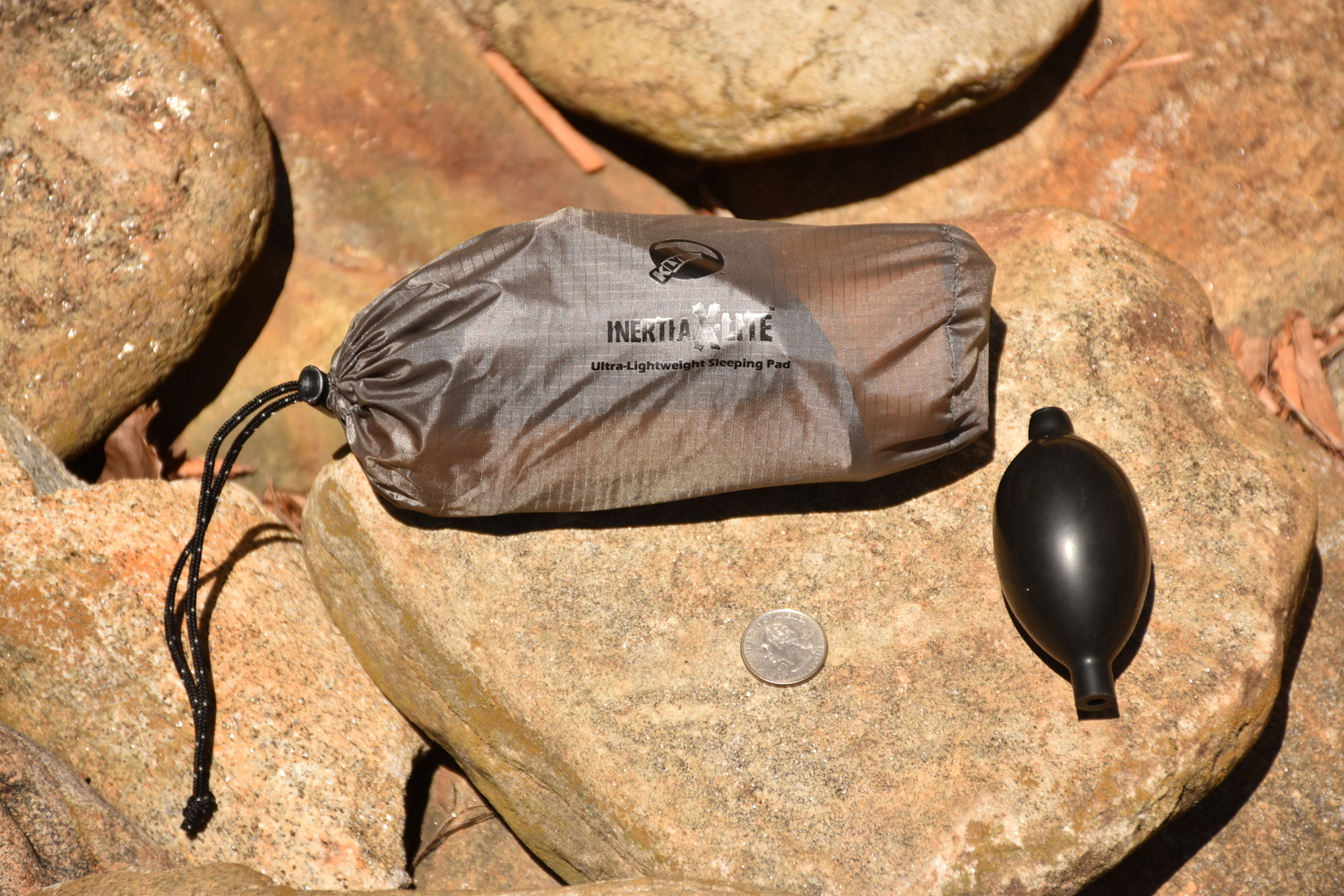 The next step was to inflate it and check out the comfort level although the real test would be during a planned trip to Colorado Springs / Manitou Springs the following week. I found the sleeping pad to be comfortable enough for me and on the Colorado trip, it served its purpose in 35-60 °F temperatures. I also wanted to know "How quickly does it inflate?" This was another surprise because it takes only 5-6 full breaths to fully inflate and if you need more or less firmness, then the use the bulb to 'micro' adjust as you see fit.
Fill Valve - Standard for sleeping pads. Blow and twist when complete.
Secondary valve used with the included bulb.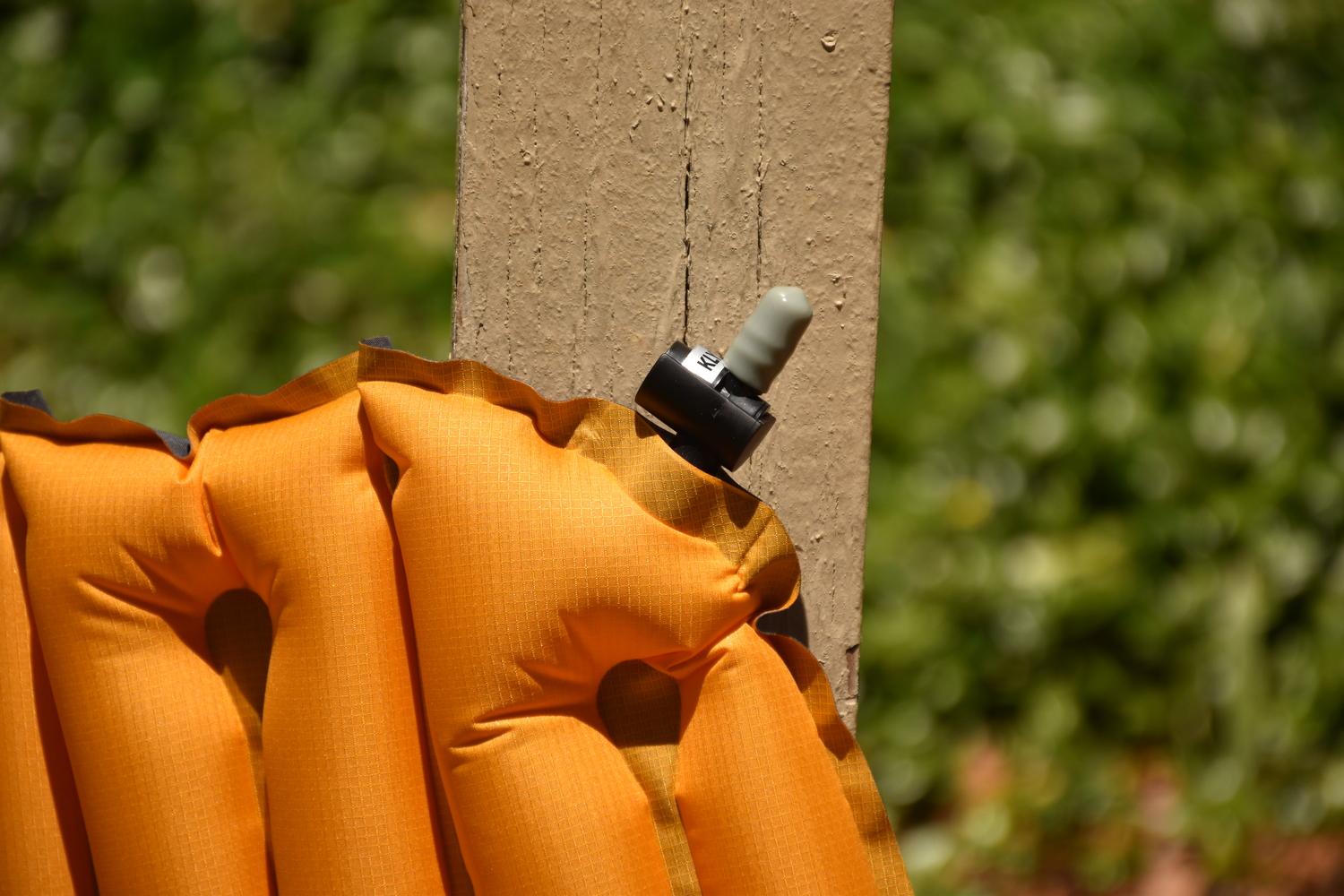 Bulb attached - adjust until you are satisfied.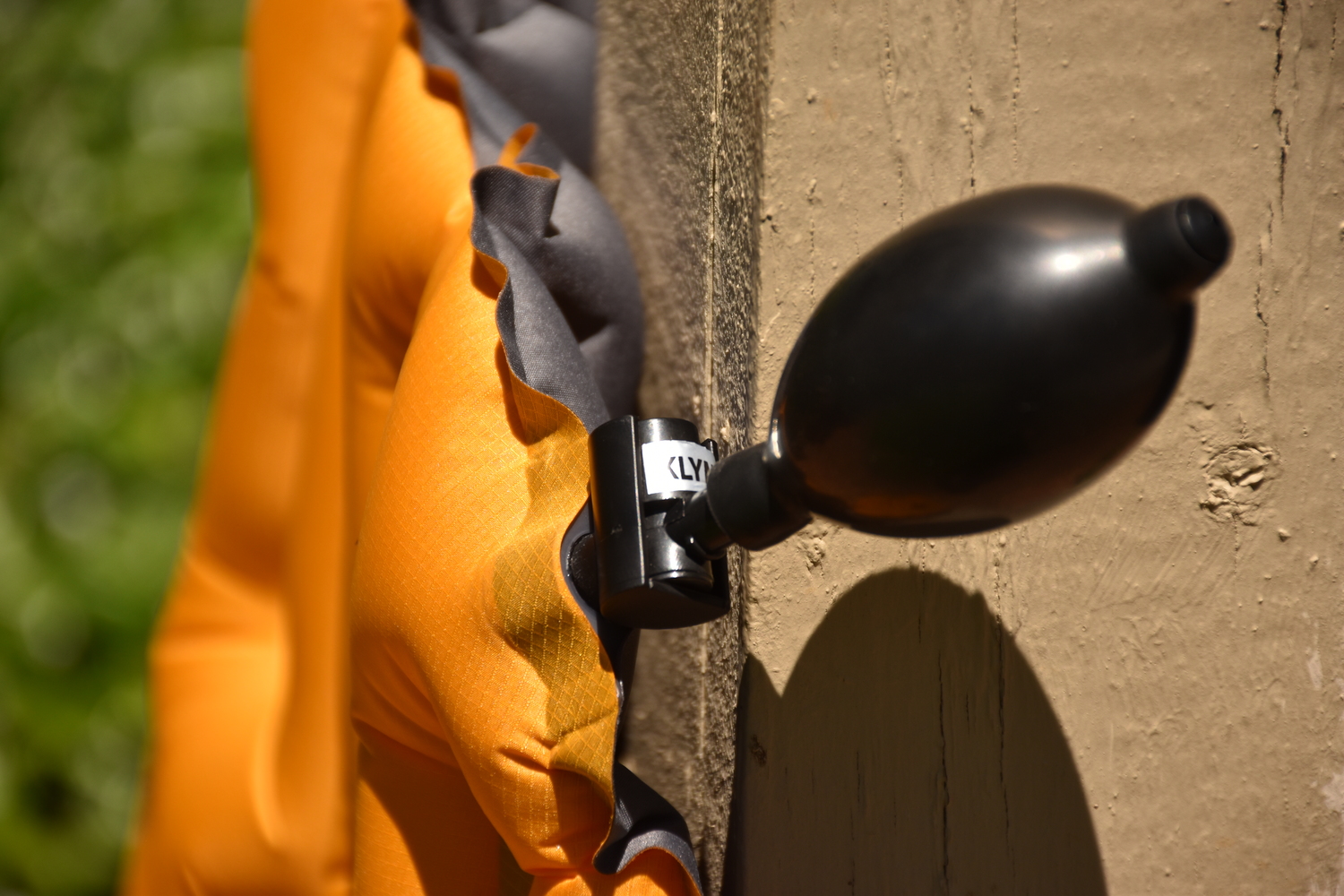 Patch Kit - Klymit thought of everything it appears.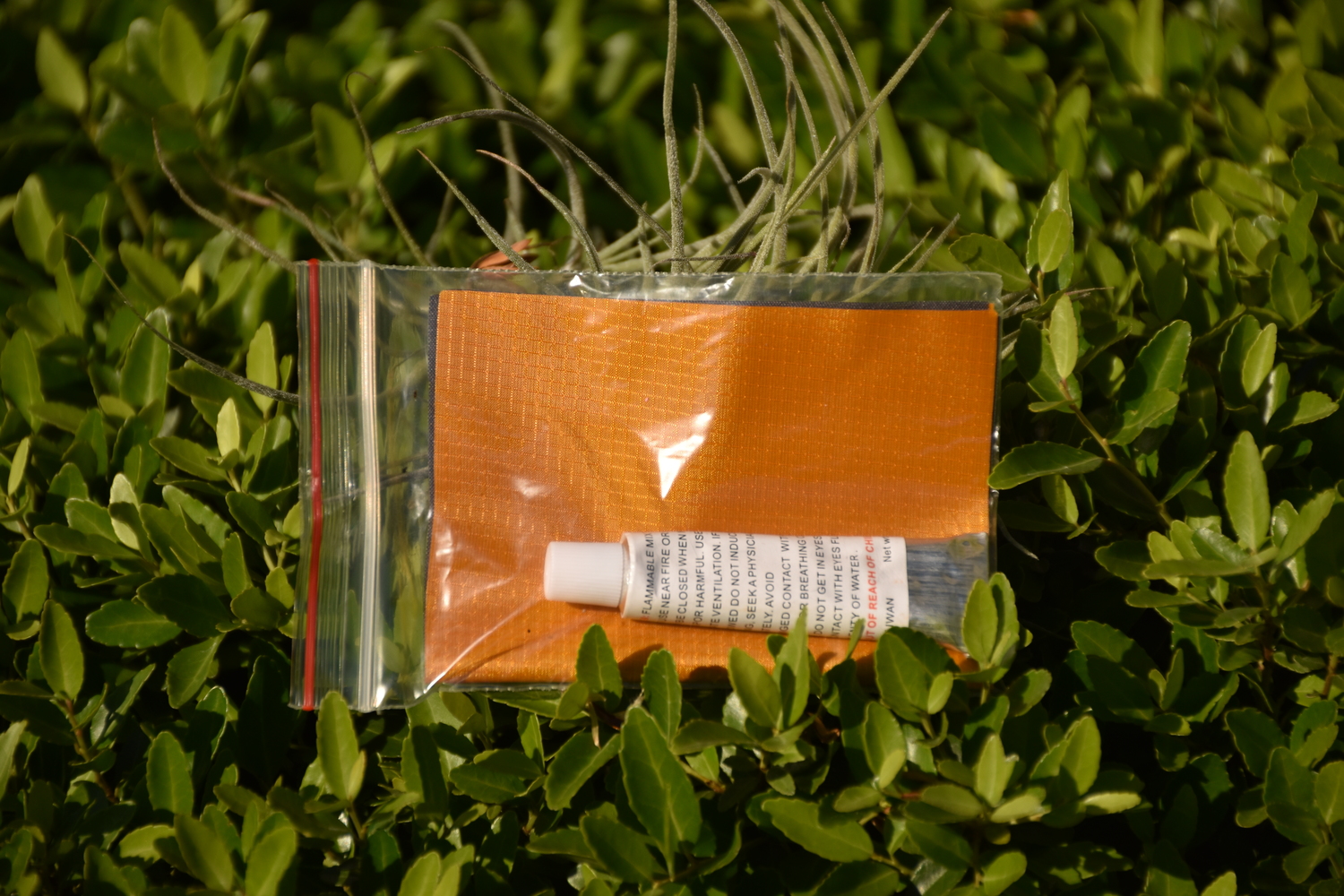 Top view of the Klymit Inertia X-Lite inflated.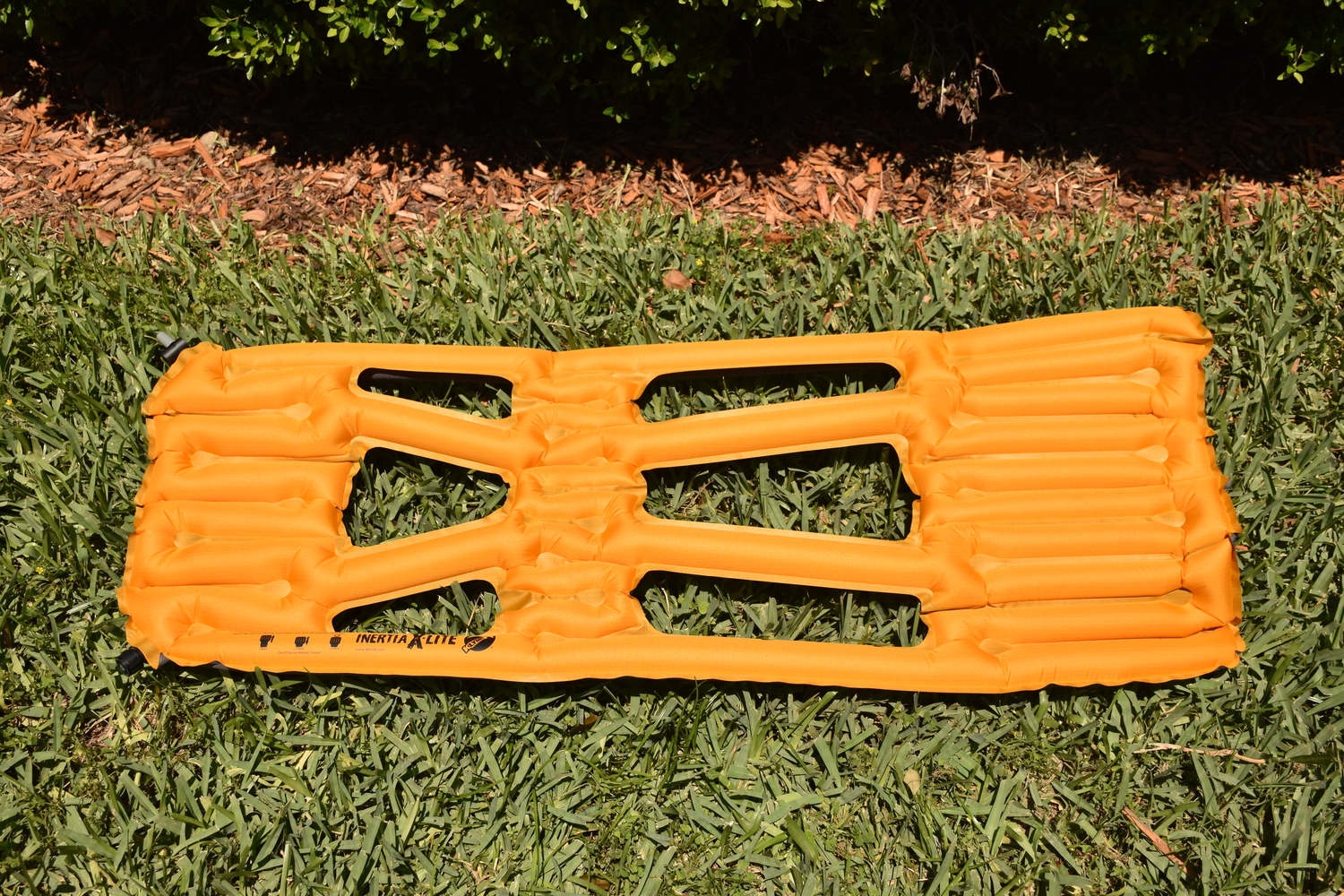 Bottom view of the Klymit Inertia X-Lite inflated.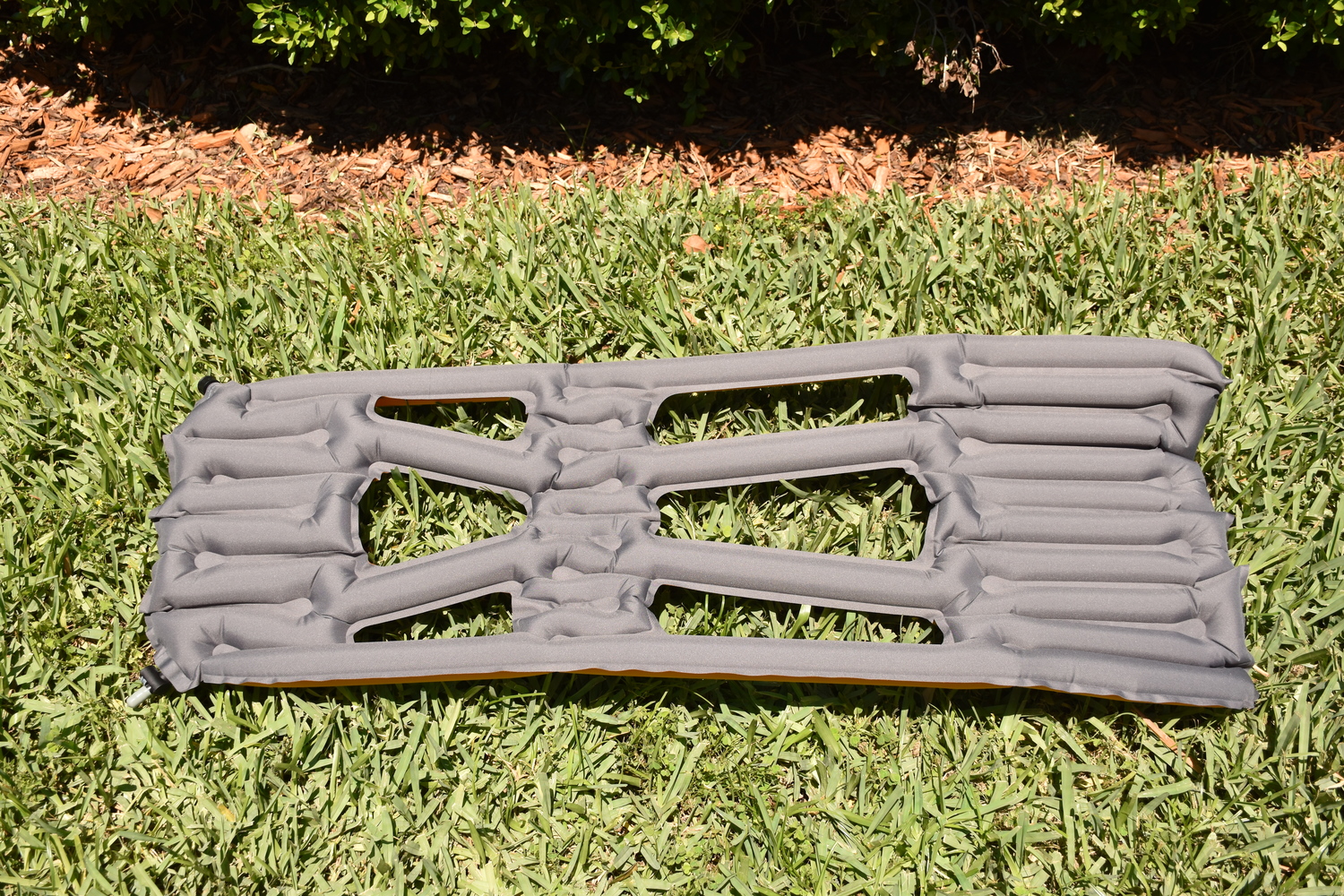 CONCLUSION
The Klymit Inertia X-Lite is great minimalist / ultralight sleeping pad. It performs well in the environments I camp because I am okay with giving up a little comfort to ensure my pack stays light. In colder conditions, I may bring along a thicker pad and if that isn't needed, I'll happily stick with the X-Lite. If not, then there is nothing wrong with having a couple of sleeping pads in my 'quiver' - each for its own purpose and conditions.
Klymit seems to have done a great job innovating beyond material and if you are trying to remove weight and save space, the X-Lite is the pad for you. It is the lightest and most compact sleeping pad I have used and fills a sweet spot in my gear list. The cost? - I paid a little over $42 ( On sale from $59.95 ) - much less than a Thermarest Neoair X-Lite so now I have money to buy a thicker version if needed.
SPECS
| | |
| --- | --- |
| Price | $69.95 |
| Weight | 06.1 Oz / 173 G |
| Dimensions | 42" x 18" x 1.5" |
| Inflation | 2-4 Breaths |
| Pack Size | 2.5" x 5.5" |
| Fabric | 30D Top / 75D Bottom Polyester |
| Warranty | LifeTimer |
INCLUDED ITEMS
| | |
| --- | --- |
| Item | Qty |
| Sleeping Pad | 1 |
| Pack Bag | 1 |
| Patch Kit | 1 |
| Bulb | 1 |